About our Company
Our company ABAKUS stavební stroje has been established in 1997 and deals with sales, reparations and lease of construction mechanisation.
During our presence at the Czech as well as the foreign market we were able to build very good relations and contacts with our foreign partners and we became direct importers of building machines of different branches. This enables us to meet your price, quality and technical requirements.
Based on a high inquiries for new ramming shoes the company ABAKUS Martin Jedlička began to produce its own ramming shoes ABAKUS for vibratory rammers of different brands in 2003. We sell our products successfully in Czech Republic, Germany, Austria, Holland and in Slovakia.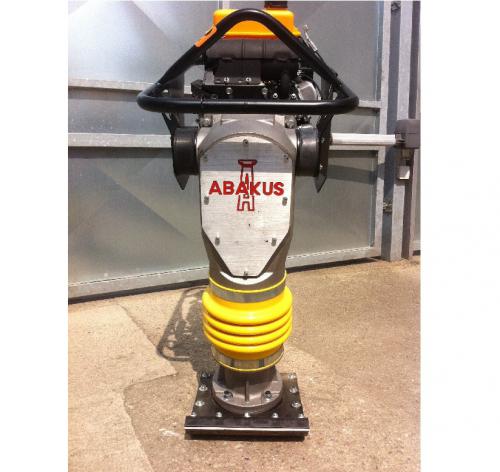 Ramming Shoes for Vibratory Rammers
Are you looking for ramming shoes for your vibratory rammers? We offer ramming shoes of our own production for vibratory rammers of different brands: Wacker, Weber, Bomag, Swepac, Powerpac, Dynapac, Abakus, Ammann, Enar, Atlas Copco, Husqvarna.
Secondhand and service
We sell new as well as secondhand machines.
We provide service for all types of vibratory plates and rammers Wacker, Abakus, NTC and others.
We fix immersion vibrators as well.
We are able to provide you with the majority of spare parts for older as well as new machines. We provide regular service for all the other machines.
Naše stavební společnost nabízí výstavbu, rekonstrukci i revitalizaci staveb různého charakteru. Kromě staveb občanské vybavenosti, objektů pro bydlení, průmyslových objektů a zemědělských objektů nabízíme také rekonstrukce a dílčí stavební práce, jako je zateplení fasád, zednické a obkladačské práce, přístavby domů či úpravy interiérů.
Naše stavební společnost působí především v regionu Zlínska, ale jsme schopni působit v celé České republice a také na Slovensku. Projekt, stavební přípravu, vlastní stavební činnost a dokončovací práce včetně úpravy terénu vždy směřujeme k danému termínu předání stavby zadaného objednatelem zakázky.
Jsme schopni zabezpeč zasíťování pozemků - ZTV, budov, obchodních center a průmyslových areálů. Zabezpečujeme špičkovou finální úpravu povrchů komunikací, chodníků a parkovišť. Pokládáme zámkovou dlažbu, jsme schopni zajistit pokládku živičné vrstvy, provádíme aplikací všech typů betonových povrchů a provádíme veškeré zemní práce. Zajišťujeme i specializovanou výstavbu vodohospodářských objektů nebo monolitických betonových konstrukcí a staveb.
Považujete svůj často používaný průmyslový robot za zastaralý či rovnou za zbytečný a neprodejný? Využijte naši službu výkupu průmyslových robotů značek ABB, KUKA, FANUC, KAWASAKI a dalších.
Díky širokému portfoliu s námi spolupracujících dodavatelů techniky a materiálů permanentně rozšiřujeme naše působení v oblasti obchodní činnosti.